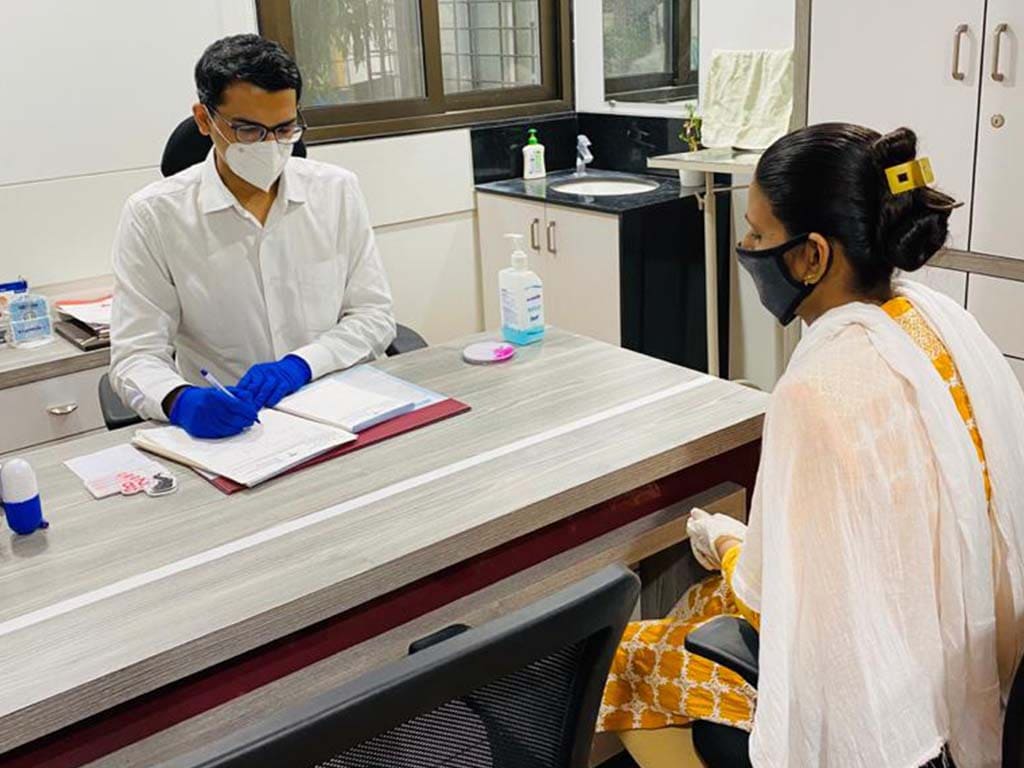 Dr. Suraj Lunavat (15 years experience)
MBBS, MS(General Surgery),
DNB(Urology/Genito) is one of the Top Urologists In Pune
Urologist & Andrologist
Urologist in Pune - Dr. Suraj Lunavat
Dr. Suraj Lunavat is a Renowned Urologist in Pune and his Urology Clinic is one of the largest corporate clinics in Pune constantly achieving excellence in Urological treatments. We offer comprehensive treatment for urology and nephrological conditions. The organization specializes in providing services in the areas of Urology, Andrology, and Pediatric Urology.
We are registered with the Indian Medical Association (IMA), Urology Society of Pune, and Urology Society of India. We serve our modern Hi-tech equipment for all Urinary diseases. Innovation is our specialty and we are constantly looking for a new and better way to meet healthcare needs.
Dr. Suraj Lunavat highly experienced urologist doctor in Pune. He offers the highest standard of Urological & Andrological treatment. He is one of the best Urologist in Pune. The organization specializes in providing services in the areas of Urology.
WHAT WE DO
Our aim to offer the highest standard of Urological & Andrological treatment for our patients suffering from Kidney Stones, Bladder stone, Ureteric stone, Enlargement of Prostate, Bladder Cancer, Kidney Cancer, Prostate Cancer, Erectile Dysfunction & Impotence, female urinary problems and male Infertility amongst other Urinary Disease.
Our vision is to provide world class health care to patients with urology and nephrological diseases at affordable costs. We dedicate ourselves towards excellence in Urology by continuously improving our people, process, and technology.
We are registered with the Indian Medical Association (IMA), Urology Society of Pune and Urology Society of India. Our clinic serve modern Hi-tech equipment for all Urinary disease. Innovation is our specialty and we are constantly looking for a new and better way to meet the healthcare needs.
Our services include Kidney Stone Treatment Pune with Laser technique, Prostate problem treatment (medicine/surgery), Urinary cancer diagnosis and treatment, Urinary tract infection treatment, treatment for urinary obstruction, treatment of female urinary problems and treatment of urinary and bladder stones. On the strong foundation of upright medical practice, integrity, sincerity, and reliability.Innovation is our specialty. We dedicate ourselves towards excellence in Urology.
WHAT OUR PATIENT SAYS
PRITISH KUMBHARE
16. January, 2022.
Took my Father in Law for the Enlarged Prostate, he diagnosed,worked up and operated him promptly..He is excellent with his work, very kind, calm n polite in communication....Thank you Dr.Lunawat
Rohini
16. January, 2022.
We met Dr. Suraj Lunavat for a second opinion. His way of explaining gave us the assurance to undergo treatment under him. He also acceded to our request to carry out the surgery at a hospital convenient to us. He is punctual, easily approachable and responsive on calls and messages.
sudeep patwardhan
16. January, 2022.
My father had a history of kidney stones and all of sudden he started feeling a pain in lower back and he started complaining about less urination. Immediately we consulted Dr. Suraj Lunavat and got the best advice. As per ultrasound, position of stones was bit odd so only option to get it removed was the surgical one. As we know this is the era of automation and technology , everybody likes for advanced things which causes very less pain and more comfort to the patient post surgery. Dr. Lunavat is not only excellent doctor but also he is great and skilled surgeon especially in advanced technologies. It was not over yet over for us. At the time of surgery, it was also identified that some part of prostate has to be removed as that was the main culprit even more than stones.Dr. Lunavat done it with extreme agility and in next 40 odd mins , its all done !! We wish all the best to Dr. Lunavat. I would personally recommend him in case you / your loved ones facing any issues in uro. He is attached to 3 main hospitals in Pune. Ratna hospital, Jagangir and Apollo spectra. His clinic is at Tilak road : Indira Chambers, 1549-B, Lokmanya Bal Gangadhar Tilak Rd, opp. Maharashtra Mandal, Ramashram Society, Perugate, Sadashiv Peth, Pune, Maharashtra 411030
punit tamrakar
16. January, 2022.
Thankyou Sir , I have an issue of severe pain in left of lower abdomen occur once in a month, I visited many doctors but not got the proper diagnosis, then I visited Lunavat clinic and meet you and get proper diagnosis, you also come on Diwali day to visit me I admire your passion towards your profession, now after operation I am feeling good thankyou sir for this.
Diptanu Das
15. January, 2022.
Dear Sir, Thank you so much for all the attention and care. In appointments, you never made me feel rushed and always answered all my questions. You go the extra mile every time and I appreciate you so much! I could not ask for a better doctor for myself. You are the best one can get as an Urologist😊Highly Recommended for all.
Mayur Kolapkar
8. January, 2022.
Dr Suraj Lunavat sir is very humble, professional & down to earth person. He was listens to your issue properly and come out with the best solution. He also explains the procedure of treatments. I was highly recommend to Dr. Lunavat sir Thank you sir
Nikhil Modi
8. January, 2022.
Dr. Suraj Lunavat conducted TURP on my dad in 2021 for his enlarged prostate; he is one of the best Urologist in Pune. His diagnosis is Top notch and suggests the treatment accordingly. Doctor is always accessible to answer any queries and his partner hospitals are also very supportive. So I Highly Recommended him for anyone searching for a Urologist.
Videos
FAQ's
What is urology?
Urology is a medical specialty concerned with conditions and diseases of the genital and urinary tract in men, women and children.
Urologists also diagnose and treat disorders of the male reproductive system.
What training do urologists have?
Urologists are medical doctors who have completed four years of medical school and at least two years of general surgical training, followed by four years of specialty training in urologic surgery.
What can I do to maintain good urologic health?
The best way to avoid urological problems is to maintain good overall health habits, including exercising regularly, maintaining a healthy weight and avoiding tobacco, excessive alcohol and caffeine.
You should also avoid foods or substances that remove water from the body, known as diuretics.
Do urologists treat both males and females?
Yes. Urologists treat men and women of all ages.
What are some of the common conditions that urologists treat?
Although our group can treat virtually any urologic condition, some of the more common disorders include impotence or erectile dysfunction; incontinence or loss of bladder control; kidney stones and other diseases of the kidney; infertility; and prostate diseases (both benign and malignant).
When to see a urologist?
Urologists are best trained to treat any condition involving the urinary tract and the male reproductive system. Other healthcare professionals may be involved in your care-a urologist may work with an oncologist to treat prostate cancer, or with a gynecologist to treat pelvic pain in women. You should consult with a urologist if you observe blood in the urine, pain during urination, unable to urinate or burning with urination.
What kind of test does a urologist do?
Urologist perform ultrasound imaging test to examine the kidneys, the bladder, the prostate and the testicles. It helps the urologist diagnose many conditions such as tumours, cysts, stones, kidney enlargement and abnormal movement of the bladder and urethra.
Why would women need to see a urologist?
There are many reasons for a women to visit a urologist. Some women have problem in bladder, urinary tract and pelvic organ prolapse. Urogynecologist can help them better way. Common female urology problem treated by urologist include urinary tract infections, bladder control problems, fallen bladder, and painful bladder syndrome.
What types of procedures does a urologist perform?
Urologist perform following procedure for treatment
• Cystoscopy: Cystoscopy uses a cystoscope to look inside the urethra and bladder.
• Ureteroscopy: Ureteroscopy uses a ureteroscope to look inside the ureters and kidneys.
• Kidneys.
• Ureters.
• Bladder.
• Cystoscopy.
• Ureteroscopy.
Blogs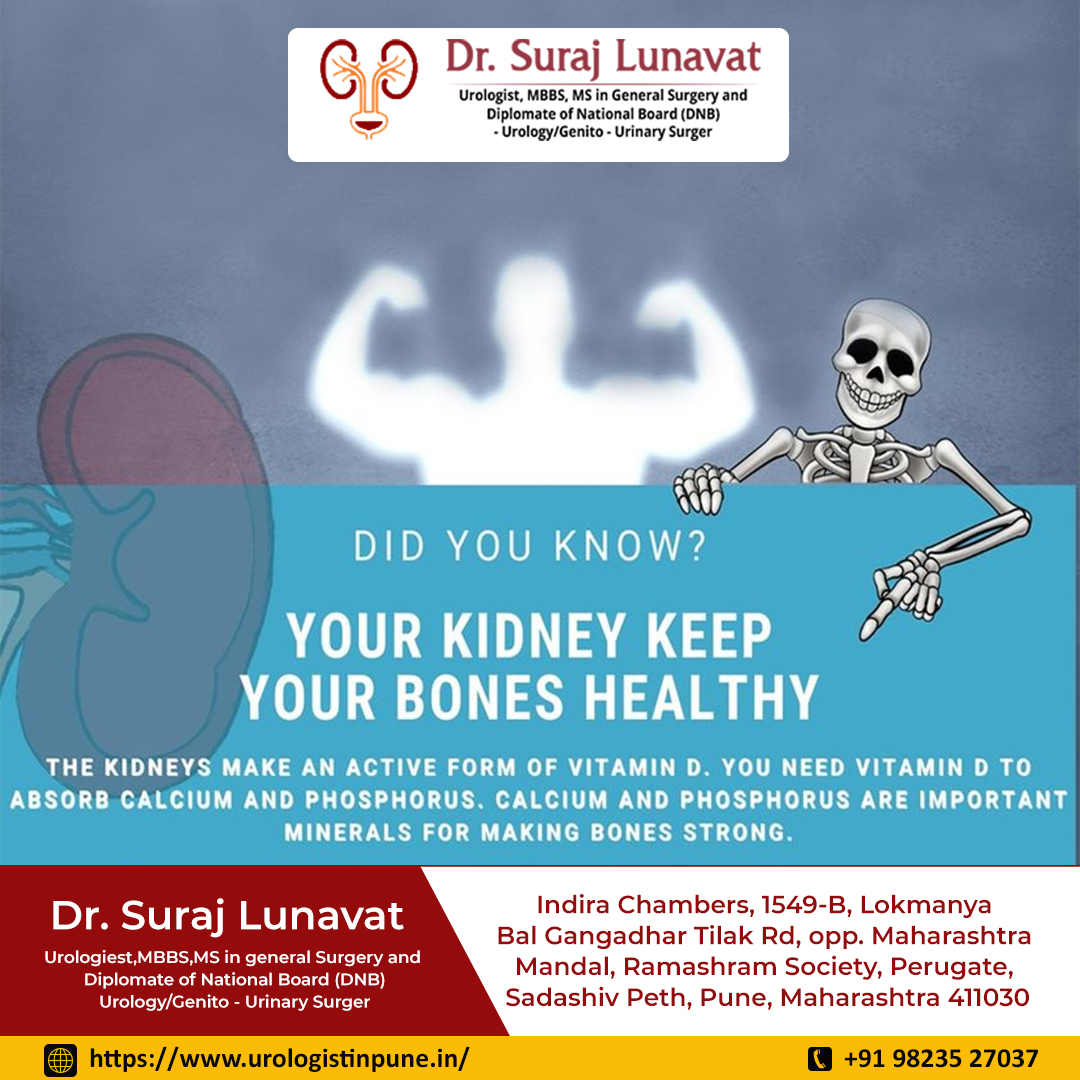 What are the benefits of kidneys for bone health? In good health, the kidneys conduct a number of im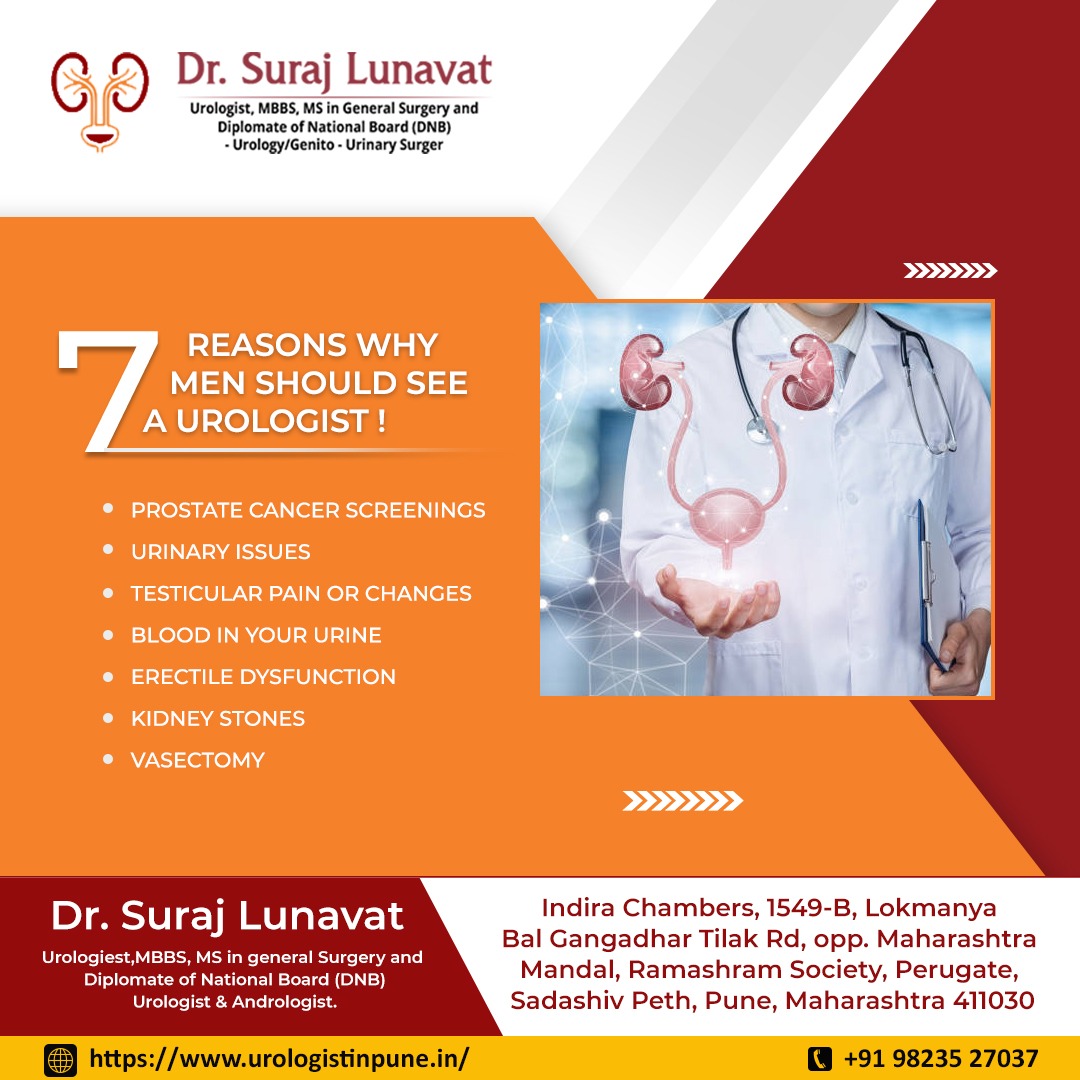 Men rarely visit urologists on their own. It normally happens after you've been evaluated for
Urologists are doctors who specialize in the diagnosis and treatment of problems with the urinary tr